8920 Hwy 50 – Unit E9, Brampton
#101-695 Remembrance Rd. Brampton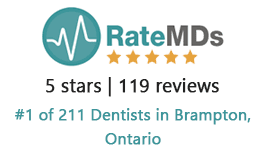 Many people have silver or mercury fillings in their teeth. In the past, these were the go-to materials to fill a cavity, however, they are not particularly pleasing to the eye. Later, it was also found that silver/mercury fillings ultimately result in a weaker tooth structure. That was one of the major reasons why dental bonding with composite resins was made. They create fillings that are not only beautiful (or invisible) but also add strength to weakened tooth or teeth. If you want to know more or want to consult a dentist about dental bonding, contact Dental Square, your local dental clinic in Brampton
Aesthetically pleasing dental bonding restorations
Dental bonding restorations are visually pleasing and long-lasting thanks to new bonding technologies. All new fillings are made with modern composite resin bonding techniques, commonly referred to simply as "bonding." This dental procedure can also be used as a restorative procedure for teeth that are chipped, cracked, discoloured or misarranged which makes it an important of the cosmetic dentistry category.
How does dental bonding work?
It's a very quick and simple procedure, and the first step includes
etching the surface of the tooth to roughen it slightly
after that, the tooth is coated with a conditioning liquid that helps the bonding material adhere to the teeth more securely
in the next step, the resin will be applied and our dentist will mould the resin and smooth it until it has the desired shape
in the last step, once the mould is hardened, it may be trimmed more if necessary
For further details, or to book an appointment, contact our team at Dental Square in Brampton. You can get in touch with us for dental crown repairs and dental implants as well.
OUR HAPPY CLIENTS SAY!
Very good and professional staff. Dr Giri is well knowledgable dentist. I have been in the clinic for my root canal treatment and he did it very nicely.
Mohneesh Varshney
He is friendly, educated me regarding dental disease prevention like a tutor.
Srikanth Voruganti
Simply great work and thank you for coming early then your schedule.
Eesh B
Very Professional & Experienced. I would definitely recommend this dentistry for the very professional service.
Sudhakar C