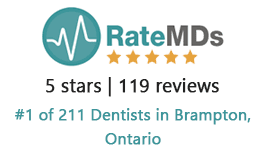 Starting with proper diagnosis
No matter how minor a dental problem may seem, it is important to diagnose it accurately so if there any underlying issues it can be identified and the treatment can be started at the early stages. That's exactly what we do at our dental clinic in Brampton. During our initial consultation, we will note down all your symptoms and also discuss your health history. Afterwards, we will do a complete checkup to understand the root cause of the problems. Once we have all the results, we will make a curated treatment plan for you.
A state-of-the-art dental facility at your service
When it comes to dental procedures, alongside the professional dentist experience in the practice, the equipment used is also highly important. That's why at Dental Square, we ensure that we have the latest in dental equipment so all procedures are carried out seamlessly. Our dentists, led by Dr. Giridhar keep themselves up-to-date with the latest trends in dental practices so they can be used to cut down the treatment time and thereby quickening your recovery. We also have dedicated team members who will be there during any surgery making sure that you're completely at ease. Overall, we try our best to make your entire experience at our dental clinic a pleasant one. If you want to know more or want to book a consultation at our clinic, contact our team in Brampton today. They can also resolve any queries you may have.
Your friendly local dentist in Brampton
Most Canadians avoid a visit to their local dental clinic due to the fear that comes with dental procedures. Not to mention, also the cost associated with these procedures. That's why generally, most citizens ignore dental problems and withstand the pain throughout their life. However, with Dr.GiridharPonnam, that will never be the case. He brings over 20 years of experience in both general and cosmetic dentistry in Brampton to his practice and always ensures that the client is at ease during the procedure. You can see for yourself by scheduling an appointment at Dental Square, our clinic in Brampton. As for prices, you will be pleased to know that all our dental services are affordable. Contact us for further details.
An extensive range of dental treatments that we offer
One of the major advantages of choosing Dental Squares as your personal dental clinic is, you will not have to visit anywhere else for your dental problems. We offer comprehensive solutions for all your dental issues, starting from a chipped or broken tooth to complete cosmetic or restorative surgery. Here's a summary of the wide range of services our dentistry offers:
Dental fillings: We clear off the cavity first from all the decay and then sterilize it so there is no chance of bacterial growth once the filling is done. We use high-quality composite resins that can mimic the colour of the natural tooth and can last up to 10-15 years.
Tooth extractions: This is another common dental procedure that we can carry out at our clinic. We understand that removing a tooth is not something that you will be comfortable with. Trust us, we have the experts who will be there with you throughout the procedure checking on you. And before you know it, your damaged tooth will be removed.
Endodontic treatments: Endodontic treatments are necessary when the pulp of your teeth is infected. This happens when there's a cavity formation or a crack in the tooth and bacteria slowly makes their way to the pulp resulting in pain. Endodontic treatments can take care of it and you can get started today by getting in touch with us.
Pediatric dentistry: Our dentists are great with children and we do whatever necessary to ensure that your little one's smile keeps on being beautiful throughout. You can visit our clinic for general check-ups, gum disease treatments, cavities any other dental problem that your child may be facing.
Tooth exams and cleaning: When was the last time you went for a complete dental exam? If you can't remember, then you should schedule an appointment at Dental Square today. We will carry out a thorough checkup and if you want it, we can carry out professional cleaning service for you too.
Complete cosmetic dentistry: Starting from dental bridges and crowns to dental boding and denture installation, we offer a comprehensive range of cosmetic dental services to patients across Brampton. We also have a solution for misaligned teeth leading to a crooked smile: Invisalign or invisible braces. For further details, get in touch.
Teeth whitening: This is a very common procedure for most of our clients. Over time your teeth may lose their natural colour due to the effects of eating, drinking and chewing habits. Using safe teeth whitening agents, we can bring back the brilliance of your pearly whites. The treatment involves cleaning, bleaching and completed with whitening and you will notice immediate results.
Veneers: Veneers are a great solution if you have gaps in your teeth or if one or several of your teeth are chipped. They can be customized to the natural colour of your teeth so overall you have the perfect smile that you wanted.
And that's just the gist of it. So go ahead, contact our team and discuss your dental needs with us, we look forward to hearing from you.
Aftercare
Completing the dental procedure is not the end of it. You will have to know the steps on how to recover quickly and also how to maintain your oral hygiene to prevent any future problems. At Dental Square, we will share all the necessary details of the aftercare treatment plan so your pearly whites are intact all year round. Also, you should consider coming for a dental checkup once in a while to ensure that everything is all right. We can help with that too.
Affordable dental care
With Dental Square, you will never have to worry about costs. For restorative dentistry in Brampton we keep our dental services affordable to make them more accessible to all our clients; also to make the payment process as hassle-free as possible, we are partners with several major insurance companies. You may be thinking, what if I am not a policyholder for any of these ones, you don't need to worry, speak with our team members and we can always find a solution. We are based in Brampton, contact us today!
Book a consultation at Dental Square in Brampton and discuss your dental issues with us, we will resolve them one by one.