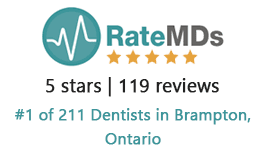 Are gum problems stopping you from eating what you like? Is it affecting you to the point that your teeth are becoming loose and can fall out? Well, you don't have to worry anymore. Schedule an appointment at Dental Square and let our experts have a look. We treat a wide range of gum issues starting from gingivitis to advanced periodontitis. Our dental clinic is ideally located in Brampton and you make an appointment beforehand or just walk in one day.
A Practical Approach In Making Your Gums Healthy Again
At Dental Square, we take a step-by-step approach when it comes to gum problems. If it's not treated correctly it might come back to haunt you and we don't want that. That's why, on our first meeting with you, we will note down all your gum issues. Every problem that you've been facing, after writing it down we will run some tests and try to get to the root of the problem. Once the results come back, we will have a look at the diagnosis, inform you what's really happening in your mouth and then start with the treatment. Some of the issues that we treat include:
Gingivitis: which can make gums tender, inflamed and make them bleed as well.
Periodontosis: In this condition, dental plaque turns into tartar and makes the gums recede. What happens then is due to receded gums, there will be a formation of pockets between the teeth which can be the breeding grounds for bacteria and pus.
Advanced periodontosis: In this medical condition, even the bones and ligaments become more damaged and your teeth lose their support system. This can cause them to fall out as well.
Preventing Gum Diseases
Prevention is always better than a cure and you can avoid gum diseases by taking care of your teeth. You can visit your local dental clinic in Brampton for thorough cleaning to start your maintenance. Consider getting in touch with Dental Square, you won't regret it in future.
OUR HAPPY CLIENTS SAY!
Very Professional & Experienced. I would definitely recommend this dentistry for the very professional service.

Sudhakar C

View All