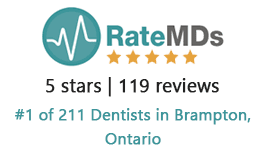 Welcome to the website of Dental Square, a modern dental clinic in Brampton with a team of professional dentists and experts in oral hygiene and care. Our aim has always been to resolve all dental issues of our clients and give them a smile that they can be proud of. We offer a wide array of dental services and that too at very low costs. Our dental clinic is located in Brampton. If you're suffering from any type of dental problem, book an appointment with us. We look forward to restoring your smile.
All-encompassing range of dental services
What separates us from other dental clinics is the comprehensive range of dental services that we offer. Starting from gum treatments and restorative dentistry to dental bridge and dental bridge installations, we have covered everything. Our lead dentist Dr. Giridhar has been practising for more than 20 years. He can carefully assess your dental issues, make you understand why it has happened and how it can be fixed. The wide range of dental services that we offer include:
Porcelain veneer installations
Root-canal treatments
Dental implants
Gum treatments
Invisible braces
And much more. We are based in Brampton and you can easily schedule an appointment with us by giving us a call.
Taking care of your smile is what we do
We understand how important your smile is for you. How it can boost your confidence and make you look even more beautiful. That's why we make it our aim to do whatever possible to ensure your teeth remain healthy for a long time. Take that first step towards a smile that you deserve, contact Dental Square today.
OUR HAPPY CLIENTS SAY!
Very Professional & Experienced. I would definitely recommend this dentistry for the very professional service.

Sudhakar C

View All