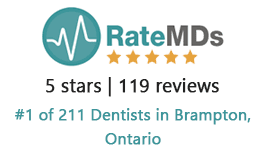 The process of straightening your teeth
If you've decided to go with the treatment, then the first step for you is to contact our dental clinic in Brampton. All you have to do is give us a call and schedule an appointment, it's that simple. Afterwards, we will guide you through the steps.
In the initial consultation, you will have to tell us about the dental problems that you face. After noting everything down, our lead dentist Dr.GiridharPonnam will examine your teeth and check if Invisalign is the right option for your treatment or not. If you both determine that Invisalign is the best solution then we will go ahead with the treatment.
In the next step, we will get a mould of your teeth and it would be sent to the workshop for your aligners to be made. They will be a custom fit so you can use them with ease. The best part about Invisalign is their snap-in feature, which means you can put them on and off at any time you want. The allows you to take them off when you're brushing or having food or drinking. However, you should keep them on at least 20-22 hours a day for quick results.
After 2 weeks, you will have to visit our clinic again for a follow-up. The progress of the treatments and also the tray fit will be examined and afterwards there will be new aligners fitted. You can do it on your own, so you don't have to visit us again and again. In the end, you will have straight teeth with a straight smile that you always wanted.
What can Invisalign help with?
Alongside treating teeth crowding and spacing issues, Invisalign can be used to treat several other dental problems as well. Here's a list of dental issues that can be treated using Invisalign:
Open bite
Gap teeth
Crowded teeth
Overbite, underbite and crossbite issues
As per a 2017 study, Invisalign can be used to align a person's arches as well. You can speak with our staff at Dental Square in Brampton for further details.
The pros of Invisalign
There are several advantages of going with an Dental Invisalign treatment over traditional braces.
Ease of use: Invisalign is much easier to use than metal braces. They can be easily fitted and removed whenever you want to. This allows you to brush and floss easily and eat without thinking that there would be food stuck inside the braces. You can practice better oral hygiene and it also helps in lowering the development of gum infection while you're undergoing the treatment.
Comfortable: Since there is no use of metal wiring and brackets, you won't have to worry about getting cuts and nicks in your mouth. They are very similar to mouthguards and do not have any sharp edges.
Endodontic treatments: Comfortable:
Clear aligners: Invisalign aligners are clear, making them more attractive to the eye and people won't even notice that you're wearing them. Invisalign allows you to smile freely without being self-conscious.
Low maintenance: Invisalign clear aligners require very low maintenance. You might notice them becoming dingy over time as you wear them, but you can freshen them by using a solution of mild bleach water and a toothbrush. The scrubbing can remove all the stains and you can repeat the process every other day.
Can I switch to Invisalign from traditional braces?
The answer is yes. However before you make the move, we advise you to check in with our dentist at Dental Square. If there is better treatment for your condition, we can start with that. You should also know that Invisalign is a separate treatment plan and it may cost you more. So, it's better to think before you make the switch.
The right choice for your misaligned teeth
If you're looking for a comprehensive treatment plan to correct your crooked or misaligned teeth, and if you don't want to bear the hassle of traditional braces, Invisalign can be the ideal solution. It can provide you with the smile that you desire with just a couple of sessions and that too without any metal wires or brackets. If you still have some doubts, let us clarify them. Book a consultation at Dental Square and speak with our lead dentist Dr.Giridhar today. Our clinic is ideally located in Brampton and easily accessible from Highway 50.
Say goodbye to crowded teeth problems and smile with confidence with Invisalign. Book an appointment at Dental Square in Brampton and start your treatment today.
OUR HAPPY CLIENTS SAY!
Very good and professional staff. Dr Giri is well knowledgable dentist. I have been in the clinic for my root canal treatment and he did it very nicely.
Mohneesh Varshney
He is friendly, educated me regarding dental disease prevention like a tutor.
Srikanth Voruganti
Simply great work and thank you for coming early then your schedule.
Eesh B
Very Professional & Experienced. I would definitely recommend this dentistry for the very professional service.
Sudhakar C