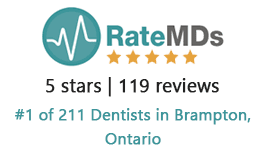 How can we help you?
When it comes to the Emergency Dentist in Brampton, it can range across several dental issues, and at Dental Square we ensure that all of them can be dealt with. Dr.GiridharPonnamis an expert in making clients feel at ease while completing the surgery, so you can be at complete peace of mind that your teeth are in safe hands. Common dental emergencies that we treat are:
Broken and injured jaw
Chipped or damaged teeth
Gum problems
Crown repair and replacement
Severe tooth pain
Object lodged between teeth
And that's just some of the common cases that we are mentioning. At Dental Square, our goal is to supply you with high-quality dental emergency services so you can quickly get back to your daily routine. If you have any queries, contact our clinic in Brampton, we look forward to hearing from you.
Affordable dental services
As you visit our emergency room, we do not want you to think about the cost. Our services are highly affordable and we are partners with all the well-known insurance companies in the country. This makes our payments as seamless as possible. As for quality of service, we never compromise on them. Alongside emergency dentistry, you can get in touch with us for dental crowning, root canal treatment, and teeth whitening. To find out more, give us a call.
Some tips to prevent dental emergencies:
When you are brushing your teeth, brush at least for two minutes and twice a day
Floss once everyday
Visiting the Brampton dentist twice a year for dental exams and teeth cleaning can prevent dental emergencies
You should avoid using your teeth to open packages and crack nuts
Avoid chewing hard objects
If you grind your teeth, then you can protect your smile by wearing an athletic mouthguard
We will also provide you with all the aftercare details so you can take care of your teeth after the procedure to prevent future problems. Our clinic is located in Brampton and alongside emergency dentistry, you can contact us for all types of dental problems.
Contact Dental Square in Brampton for quick and efficient emergency dentistry.