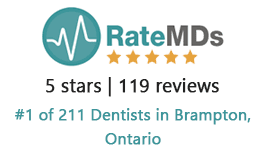 At Dental Square we understand how important your smile is for you. How it can boost your confidence and make you feel more beautiful. That's why something happens to your teeth, you become self-conscious, sometime you may try to cover your mouth while speaking. Well, our restorative dental services can take care of that. Our team offer several restorative dental treatments for every situation. Rest assured, with the help of modern restorative dentistry in brampton we can reverse dental damage and you can go back to living your normal life with comfort and confidence.
What we offer in cosmetic dentistry
At Dental Square, what we offer is an extensive range of cosmetic dental services that can restore your natural smile. Whether it's a single chipped tooth that needs to be repaired or complete oral reconstruction, our team can take care of it. Have a look at the range of cosmetic dentistry services that we can offer:
Dental bonding
Dental crown installations
Dental implants
Tooth coloured fillings
Gum treatment
Orthodontics
Dentures
If you're worried about prices, you should know that our dental services are affordable and we are partnered with major insurance companies for smooth payment processing. We serve across Brampton.
Don't ignore cosmetic dental problems
Initially, you might think of ignoring your cosmetic dental issues, but you should consider thinking long-term. Your teeth can't heal themselves and if left untreated, any type of damage will inevitably spread and that will lead to the affected tooth/teeth breaking altogether. This can be very painful, and you can avoid this by visiting Dental Square in Brampton and undergoing restorative dental surgery. Let us restore your smile today, schedule an appointment today.
OUR HAPPY CLIENTS SAY!
Very Professional & Experienced. I would definitely recommend this dentistry for the very professional service.

Sudhakar C

View All